Who is suitable for this 1-2t/h feed pellet production line? It is specially designed for the small farm owners, and the animal feed suppliers who firstly begins to enter the poultry feed production industry.
What raw material can use? This Line can used for all kinds of grain, such as maize, corn, wheat, soybean, barley etc. There are also other kinds of materials, like premix, vitamins, wheat bran, salt and others according to different formula.
What kind animal feed can produce? This poultry feed pellet production line can produce feed for meat chicken, broilers, laying hens, and small baby chicken feed, and cattle feed, pig feed, duck feed, sheep feed ect. And you can see the wet type fish feed pellet production line which is one of the type of fish feed production line.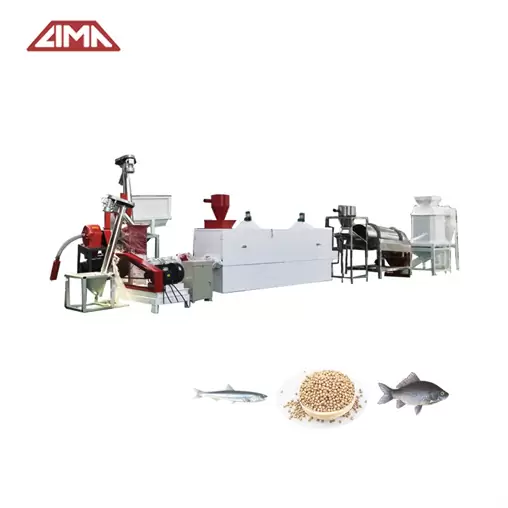 Feature
1.We can provide different capacity production lines according to your requirements.
2.We could make powder feed unit,premix feed unit,and pellet feed unit.
3.Stainless steel materials and Carbon steel materials for spare parts ,dies and rollers.
4.Overseas engineers can participate in the installation project up to the turnkey stage.
Main Machine Of Production Line
Crusher: It uses a positive pressure, high-speed rotating rotor to generate a large centrifugal force, and the raw material is sucked into the pulverizing chamber to be pulverized. 
Mixer: The machine is mixed with the high speed rotation of the stirring blade in the surface barrel and it is suitable to produce prower/mash feed. 
Pellet machine: The machine can press solid and viscous media through a die. Raw materials going in, your product comes out and is cut to size. 
Dryer: The machine is used in drying food and animal feed pellet, and the high temperature make raw material on steel belt recycling drying.
Seasoning: The machine is used for continuous seasoning pellets, which automatically controls the speed and material capacity.
Cooler: The cooling machine can reduce feed pellets temperature to a slightly higher level than room temperature, which can ensure the quality of the fish feed.
Packing: The process of weighing, bagging and slitting the finished product by automatic packaging equipment and are shipped in two forms: bulk and bagged.  And you can go to see the fish feed packaging machine.
Have a good day!